oro nero
Passion, tradition and research
Oro Nero (Black Gold), because we like to think that our raw material is precious and should be treated with care and respect, and because the characteristics of artisan operations and the quality standards of industrial production are two faces of the same coin.
COFFEE BLENDS IN BEANS, GROUND AND CAPSULES
Behind our original brand name Oro Nero, you'll find a complete range of coffee bean blends designed for the restaurant trade, vending machines and mass retail, high-quality ground coffees for the different extraction methods and capsules of coffee, solubles and infusions compatible with the most common systems as well as our own.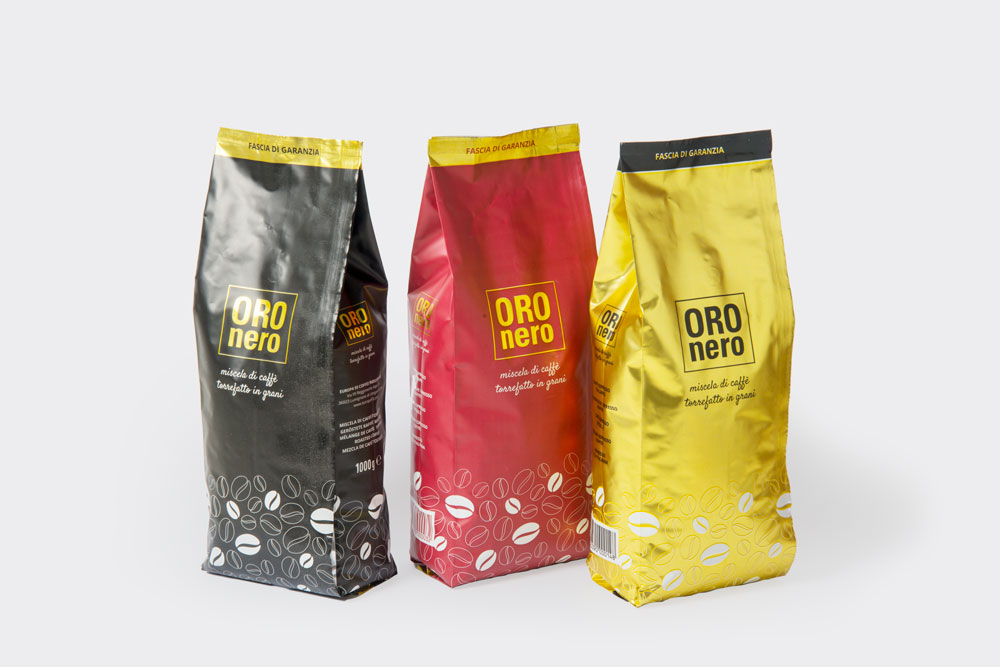 COFFEE BEAN BLENDS
A COMPLETE RANGE TO SATISFY EVEN THE MOST EXACTING CONSUMER
From mild, refined Gold to intense, creamy Red, not forgetting rich, full-bodied Black and the smooth, balanced flavour of Decaffeinated.
gold

Oro Nero Gold is our most sophisticated blend. It is the result of expert roasting, one origin at a time, of the best Arabica coffee, the most valuable variety. Slow roasting guarantees a mild, smooth flavour in the cup, characterised by slight acidity and robust body, with fruity and slightly spicy aromas. The result is a superior coffee, distinguished by an unmistakable flavour and a delicate aroma, topped by a fine and persistent hazelnut-coloured crema.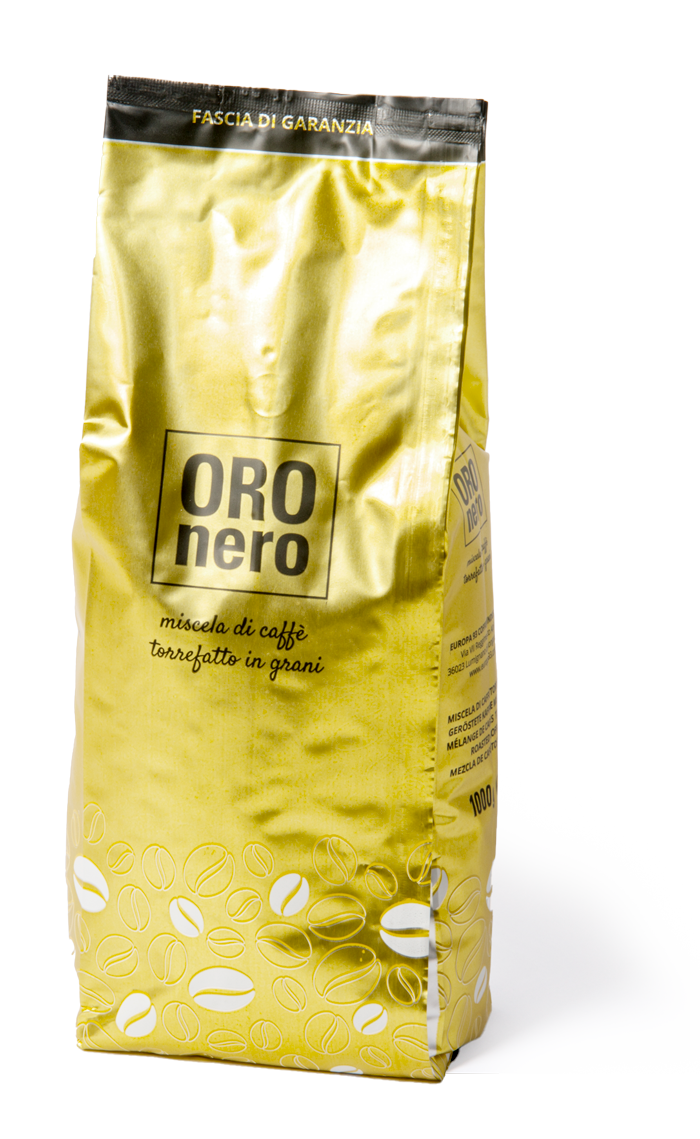 black

A perfect balance between the aromatic richness of the best South American and African Arabicas and the full, rounded body of African and Asian Robustas: this is the distinctive feature of Oro Nero Black, our blend aimed at consumers seeking an espresso with plenty of substance yet packed with aromas, ranging from nuts to chocolate, with slight spicy notes. Each origin is roasted separately using our slow-roasting method, which allows the organoleptic properties of each coffee to be showcased.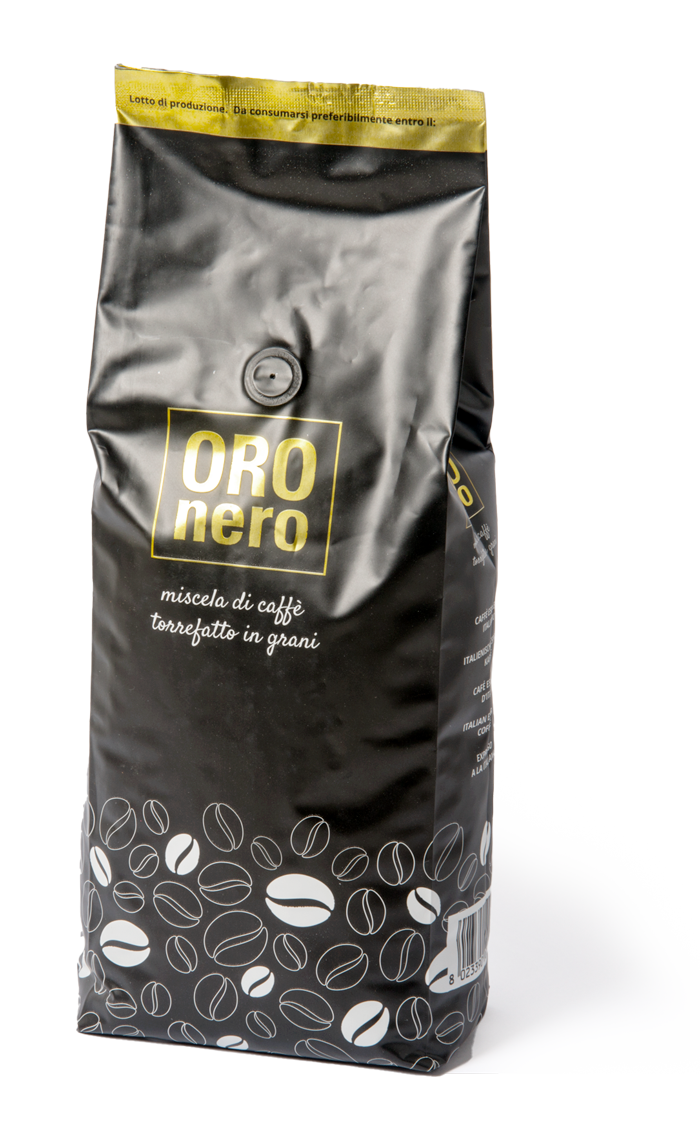 red

A coffee with a distinct personality and a persistent aroma: our Oro Nero Red blend fully meets the expectations of those seeking all the characteristics of an espresso. Intense body and rich, velvety creaminess characterise this bold, enveloping blend. Also available dark roasted for an espresso with even more warmth and depth.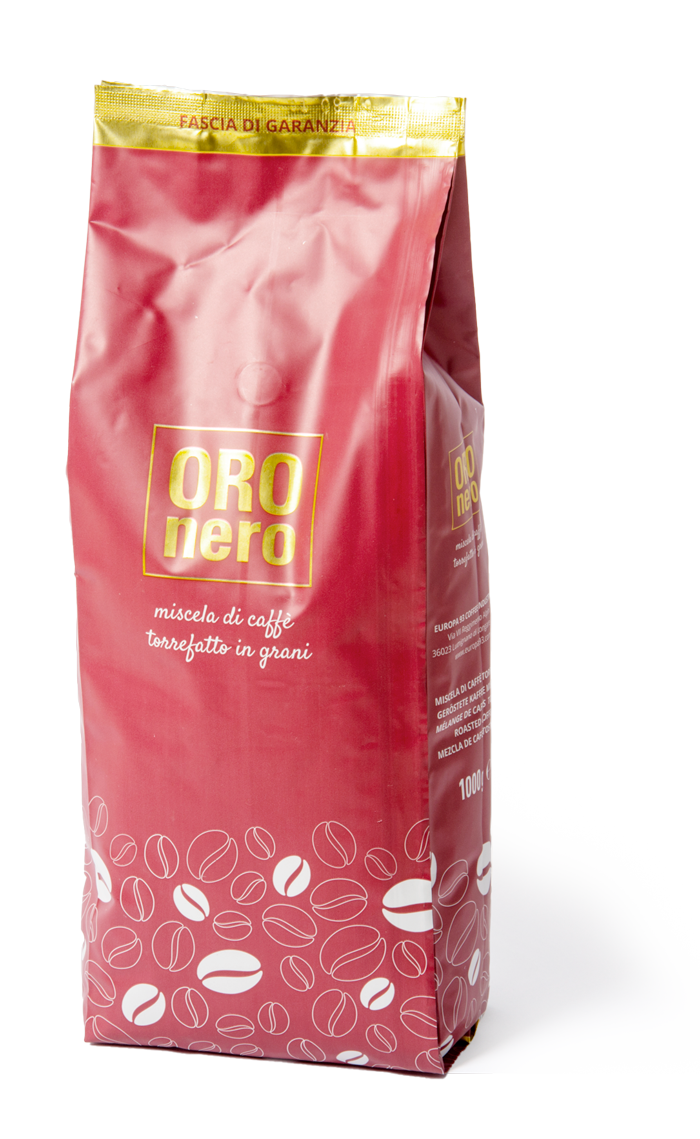 decaffeinated

If you don't want to give up the aroma and flavour of espresso, but want to avoid the effects of caffeine, or if you can't take it for health reasons. Our full-bodied decaffeinated coffee has a rounded, balanced flavour and comes in 500 gramme bags with an aroma-preserving valve. It contains less than 0.1% caffeine and is not put in the shade by caffeinated coffees.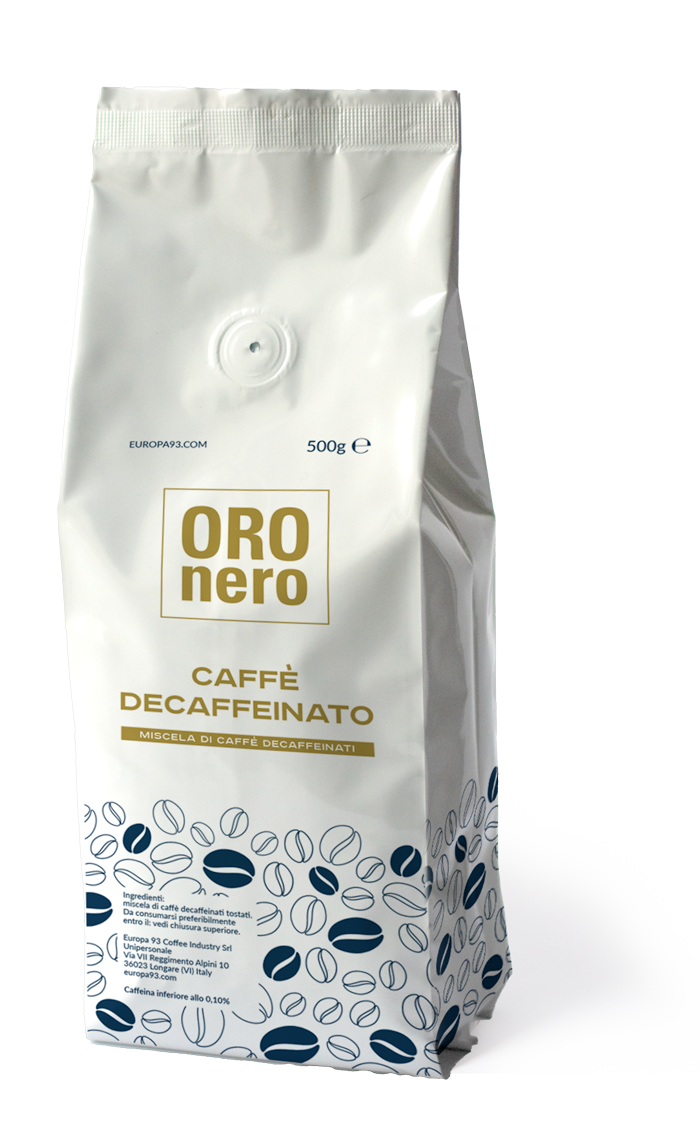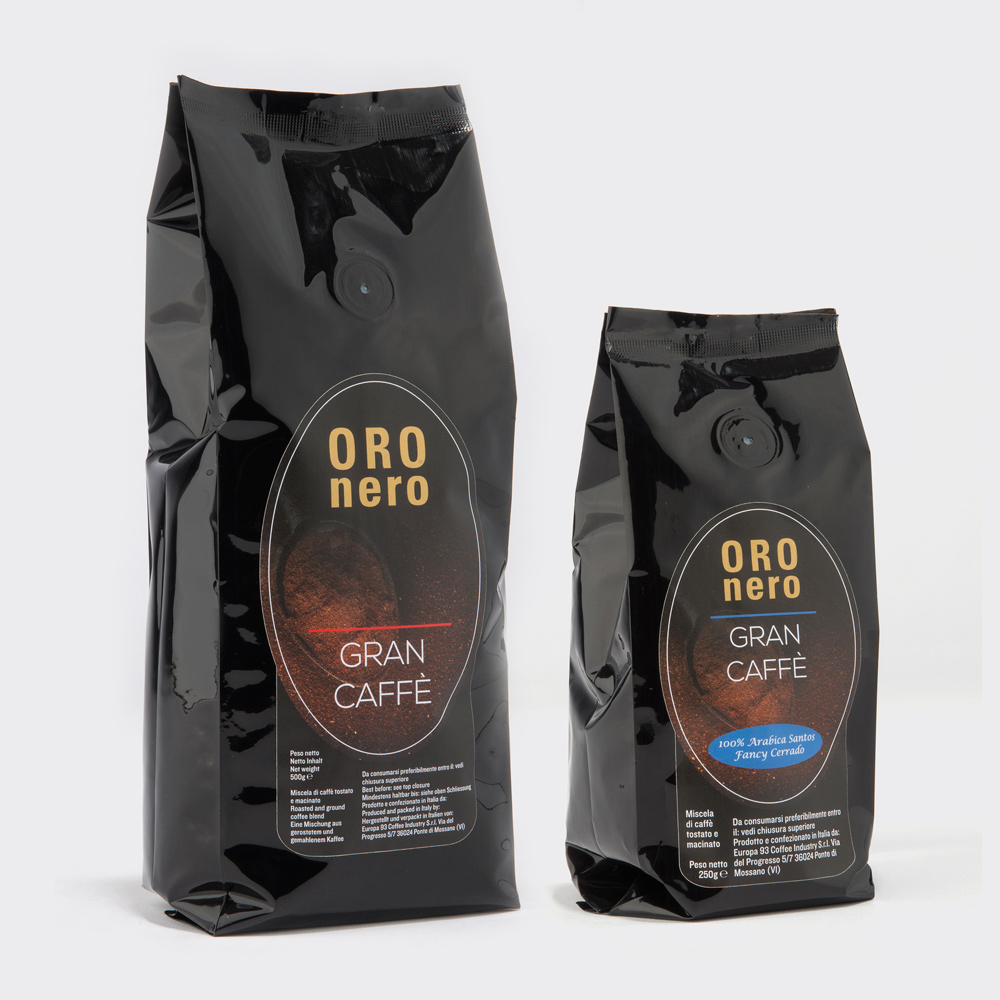 GROUND COFFEE
ORO NERO GRAN CAFFÈ
In our blend of freshly ground coffee packaged with a freshness-saving valve, you will find the perfect balance between the aromatic richness of the best South American and African Arabica coffees and the round and pronounced body of African and Asian Robusta. Available in packs of 500 and 250 grams, ground for mocha, espresso and filter, it is designed for those who likes their espresso to have a full body and, at the same time, rich in aromas ranging from dried fruit to chocolate, with slight spicy notes. Each origin is roasted separately with our slow roasting method which allows us to enhance the organoleptic characteristics of each origin.
COFFEE CAPSULES
Way back in 1993, we were among the first to believe in the future of coffee capsules, and to design our Europa 93 system, which combines a capsule that can deliver delicious creamy coffee, just like the bar, and a range of coffee machines. Today we offer not only our exclusive Europa 93 and Gran Bar systems, but also compatible capsules for a range of machines: Nespresso®*, Dolce Gusto®*, Lavazza A Modo Mio®*, Lavazza Espresso Point®*, Caffitaly®*, Essse Caffè®*. We also offer compostable capsules – which, thanks to the use of biodegradable polymers, can be disposed of with organic waste – and certified organic coffee. All the packaging of our capsules can be customised with the client's logo; we can provide creative and graphic support for the creation of bespoke packaging.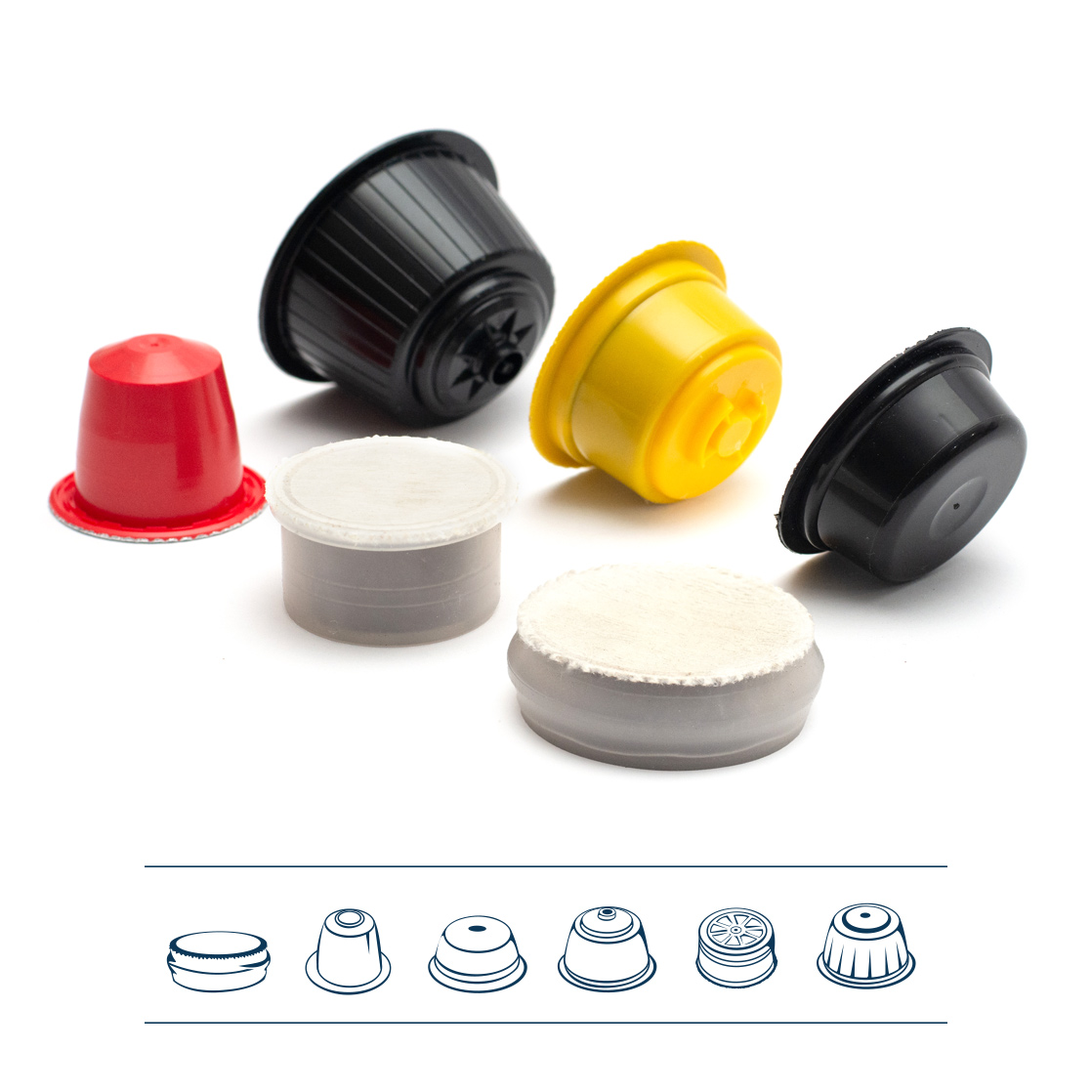 *Nespresso®, Nescafé Dolce Gusto®, Lavazza A Modo Mio®, Lavazza Espresso Point®, Caffitaly®, Essse Caffè® are registered trademarks of third parties unconnected with Europa 93.
Want to receive more information or simply come and see us for a great coffee?
Complete the form and we'll get back to you right away!